CH-K101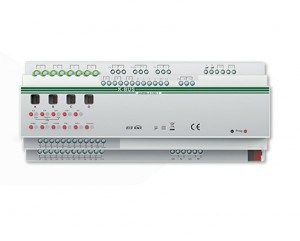 Controls heating, cooling, ventilation, lighting, water/fire alarm, etc.

  Low-cost solution for the hotel rooms

  Can also be used in apartments, hospitals, office buildings, assisted living facilities etc
12 folds output of relay switch, including 4 folds for 16 A manual output, others for 6 A automatic output; all the folds have the function of staircase light, light flashing and switch output, as well as function of time and logic control.
2 folds output of shutter control, with max. load current 6A per fold. The functions are: normal opening and closing of shutter, louvre adjusting, automatic sun protection and security.
2 folds output of triac dimming, with max. load current 1 A per fold, and with the functions of relative dimming, absolute dimming and staircase light dimming.
1 fold output of fan coil to control 3 modes of wind speed: high, medium, with max. current 6 A. This output can be used as 3 folds 6 A relay switch output. 4 control coil, with max. load current 1 A, has function of PWM and continuous control.
20 folds input of dry contact, with the function of switching, dimming, shutter controlling and fixed value output.
Power Supply
21~30V DC, bus powered
Current
<12mA
Power Consumption
Max. 360mW
Operating/Display
Red LED and push button for assigning the physical address;
flashing green LED means the device is working normally
Auxiliary Power Supply
230 V AC+10%/-15%
Installation
on 35 mm DIN rail
Temperature Range
Operation: -5℃ ~ 45℃
Storage: -25℃ ~ 55℃
Transport: -25℃ ~70 ℃
Output/Input
12 folds output of relay switch, 2 of triac dimming, 2 of shutter controller, 1 of fan coil, and 20 folds input of dry contact
Dimension
218 x 90 x 63 mm