CA-D350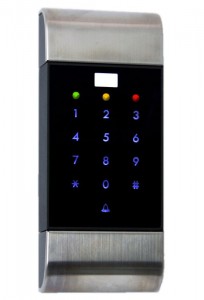 Mifare 13.56 and EM 125k frequencies

  Touch panel, 13 keys

  Alarm function available

  Master Card or Master Code
Touch panel, 13 keypads (0~9, *, #, door bell) with White Backlight.
Built-in relay for open door (24V/5A).
Alarm Function is available(Tamper, Force entrance, Door open too long,Duress).
Access control system and security function are set through controller.
Use master card or master code to enter edit mode for easy & quick setting.
Door unlock time setting, latched-on/latched-off or momentary 0.1~250 seconds.
Metal cover and hidden screws for anti-dismantlement.
Screen off when the system stand by, touch to resume screen with backlight.
Patent Waterproof design.
 Mode
 S1
 S2
 S3
 Card User
 2,000
 65,535
 4,000
 Storage Record
 12,000
 12,000
 12,000
 Individual Password
 V
 –
 V
 Door Group
 15
 –
 15
 Time Zone
 15
 –
 15
 Elevator Control
48F
 –
 –
Interface
 RS485
 Keypad
13 Keys (0~9,*,#,Bell)
 Material
Aluminum
 Indicators
 3 x LEDs
 Dimension(mm)
 147 x 62 x 21 mm
 Power Input
 10-15 VDC