CA-D300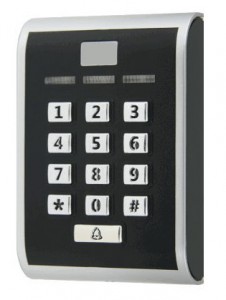 Mifare 13.56 and EM 125k frequencies

  3 mode switches for different requirements

  Alarm function available

  Master Card or Master Code
S1, S2, S3 mode switch for different requirements.
13 keys with white backlight.
An independent button for connecting to the door bell.
2 built-in relays for opening the door and for an external output (24V/5A).
Built-in reader and an external reader port for exit or anti-pass-back.
Alarm Function is available (tamper, force entrance, door open too long, duress).
Dual function to control electric locks and setting security machine.
Use Master Card or Master Code to enter edit mode for easy and quick setting.
Keypad will be locked for 30 seconds while continuous error operation.
Door unlock time setting, latched-on/latched-off or momentary 0.1~600 seconds.
Reading ISO14443a type Mifare smart card serial numbers.
Card can be added/deleted/inquired by key-in or read-learn-in directly or PC/Laptop.
Individual System Code and Anti-Copy by Mifare Programmer.
Mode
S1
S2
S3
 Type
 Network
 Calendar
 V
 Card User
 2,000
 65,535
 4,000
 Storage Record
 12,000
 12,000
 12,000
 Individual Password
 V
 –
 V
 Interface
RS485
RS485
RS485
 Door Group
 15
 –
 15
 Time Zone
 15
 –
 15
 Elevator Control
48F
 –
 –
 Reader Interface
 WG26,WG34
 Material
 ABS
 Indicators
 3 x LEDs
 Dimension(mm)
 106 x 70 x 23 mm
 Power Input
 10-15 VDC
 Operating Temperature
-20°C ~ 80°C
 Operating Humidity
 5%-95% (Non-condensing) relative humidity